I know this isn't rotary specific but I didn't know where else to put it.
Anyway, as the title says, I'm looking for a website or something that has intercooler parts. The reason being that my current IC end tanks are not efficient and I want to make a new one. Take a look at the pic to see for yourself...
I'd like to have some end takes similar to this...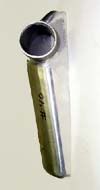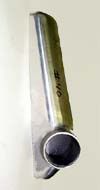 ...but I'd like to see what else is out there before I commit myself to these, and actually if they could flow a bit smoother than these I'd like that too, maybe have more of an angle where the air enters and exits. If I can't find anything closer to what I need then I'll definitely get these though because they're already leaps and bounds better than what I have now.
I've done google searches and so far I haven't seen anything like what I need, and until I do, it leads me to believe I need to have it made.
Also, I think I read something within the last couple months or so about a new IC core design, has anyone heard anything about that? Supposedly it's better than bar and plate. I could be mistaken, it's been a while since I read it and I'm probably just "remembering" things that don't actually exist haha.